What is Driver's Education?
It is just as the name implies. It is a way to educate drivers, in a controlled closed track environment, on the capabilities of our incredible machines known as Porsches, and to teach us how to use those capabilities safely. Be forewarned, however, it is not some dull classroom exercise. Rather, it is an exciting, hands on, fun filled (many say addictive) experience that will leave you on your first day with cheeks from grinning too much.
What is NOT Driver's Education?
It is not a race school. It does not teach you how to race, nor does it encourage you to race. In fact any racing by a participant is dealt with rather severely up to and including expulsion from the event. The goal of Driver's Education (DE) is to teach you how to drive your car safely at speed on the track.
What does it take to participate in a Suncoast PCA Driver's Education?
You must be a PCA member, have a car that is mechanically capable of handling a race track environment (it doesn't even have to be a Porsche, though you must own a Porsche in order to join PCA), and have a desire to experience and learn how to safely handle yourself and your car on a race track. Non-members may also join our events by coordinating with the event Registrar (deregistrar@suncoastpca.org).
Do I need a lot of special equipment?
You will need a helmet with a Snell rating of 2010 or newer. If you are purchasing a helmet, be aware the 2010 helmets will only be good through the end of this year; come Jan. 2022, PCA will only allow helmets with Snell rating of 2015 or newer. You can find the date on the inside of any helmet. Many of us borrowed a helmet for our first event. You must wear closed toed shoes, and they should be non slip. No special clothes are needed although stay away from highly flammable fabrics. You can even wear shorts and short sleeve shirts.
Do I need to do a lot of special things to my car, and won't it get torn up by driving it on a race track?
You do not need any special equipment for your car in order to participate in Driver's Education (The one exception is for pre-996 model 1998 or earlier cabriolets which need to have a roll bar installed.). You do need to get a tech inspection done on your car by a dealer or reputable shop no earlier than one month before the event. This is to determine that your car is ready for high speed driving. You will also need to replace your brake fluid with racing fluid which has a much higher boiling point, and thus is much safer. This can be done when you have your tech inspection done.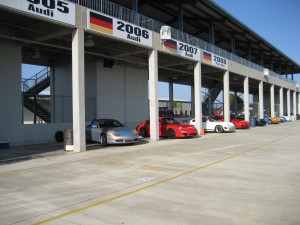 As far as the potential to tear up your car by driving it on the track, Porsches are one of the few if not the only makes of cars that are designed to be able to drive them at their limits without mechanical problems. At least 50% of the cars, and over 75 to 80% of those in the beginner and intermediate instructed groups are street cars with little or no modifications. Many are their owner's daily drivers. Very few mechanical problems have been reported that are directly attributed to the fact that the cars were driven on the track. You will use up wear items such as tires or brake pads faster than normal, but every hobby or sport has costs related to it.
What about safety?
I don't want to damage my car. We pride ourselves on our safety record. You are as safe if not safer at our Driver's Education than you are driving I-4, I- 75 or other busy roads. You will have an instructor in your car at all times providing you with guidance and education until you are qualified to solo. Our instructors have met high standards and have extensive track experience, so listening to him or her will help ensure you and your cars safety. Another key safety ingredient is separation of cars. We keep a safe distance between cars, only allow passing on designated straights, and only then when the car being overtaken signals to which side they want the overtaking car to pass. There is no passing in the corners in any of the instructed groups.
Where does Suncoast PCA conduct it's Driver's Education events?
We use the famous, 3.7 mile, 17 turn Sebring International Raceway located in the center of the state due East of Bradenton.
What will my day be like?
Driver's Education starts early, so you will need to be at the track by 7AM. Most go to Sebring the night before and enjoy an evening of camaraderie with other drivers. There are a lot of options for accommodations in Sebring, but most use either the Inn on the Lakes, located about 5 miles north of SR 66/ US 98 on US 27, or the Seven (Sebring Raceway Hotel) located adjacent to the track. If you haven't connected with other drivers, don't worry about being alone that night. Just look for People wearing Porsche clothing at the bar or in the restaurant and introduce yourself. You will find that we are a very friendly, inclusive bunch.
Your car needs to have a tech inspection that morning between 7 and 8. You will then place your car in line on the hot pit lane and proceed to the base of the tower for a drivers meeting. At the end of the drivers meeting you will meet your instructor who will ride with you at all times that you and your car are on track. As soon as you meet, you and your instructor will get in your car for orientation laps. These are helmet off laps at moderate speeds which will allow you to get comfortable with the track and procedures. You will have a one hour classroom session before your first time at speed to further help you understand what you will be asked to do. Remember that all the drivers in your run group have the same level of experience. You all will start out at speeds well below your cars capabilities, then gradually build up speed as your skills improve.
You will have a total of 3-30 minute sessions during the course of the day, leave with a grin on your face, and have a great story to tell your friends and family.
You have convinced me to try Driver's Education. When are they and how do I sign up?
See the sidebar on the right for upcoming dates. Sign up by going on line to clubregistration.net. If you don't have one already, create a profile for yourself, look up events for Suncoast PCA, and follow the instructions on registering. Our DE Registrar will usually send out an alert on our Suncoast Facebook page as to when registration will be open (usually 4-6 weeks before the event). Plan on signing up early because they usually fill up and you do not want to miss out on the fun.
If you have any questions about Driver's Education, our Driver's Education Registrar at: deregistrar@suncoastpca.org